Update 19.09.2015
The FC-114 boards I have have the Bolutek firmware. User DS has reported that he/she has FC-114 boards that have the linvorV1.8 firmware. So if the below does not work for you then check what firmware you have.
I may be missing something but I can not get the HC-05 FC-114 boards in to Master Mode and connect to other BT devices with just AT commands. The modules say they have accepted the commands, such as AT+ROLE1 but when I try to connect to other modules I get the error message "Can only be used in Lord Mode".
The modules accept "AT+ROLE1" and report they have changed mode but they haven't really.
In an earlier post I mentioned that it looks likes pin 27 or pin 28 has to be pulled HIGH to enter Master Mode and this does indeed seem to be the case. Everything I have tried without pulling the pin(s) HIGH has failed.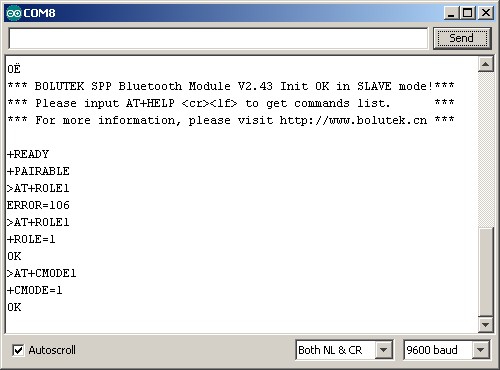 They reply with "OK" and if you interrogate with "AT+ROLE" they report "+ROLE=1" but they are actually still in Slave Mode.